Christian men and women worried about the big tragedy lived by other men and women infected with Aids in Sahel African countries and specifically in Burkina Faso, the third poorest country in the world. Our work, volunteer or paid ( at this moment only one person) is directed to HIV infected people, adults, children or orphans whose parents died because of Aids and they are now without social , medical, nutritional, psychological and educational coverage needed by every human during their growth.
The State of Burkina Faso helps with the mediation. Cáritas of Burkina (OCADES), with the nutritional aspect. Asilo of San Pedro Foundation Shop in Spain, economically, and it is who bears the budgets from each year with different donations from the West.
Burkina's Catholic church, with its unconditional spiritual and moral support.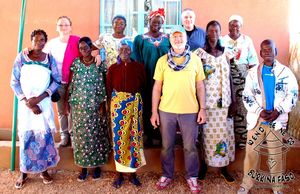 WEND BE NE DO staff is composed by the coordinator (Suzanne OUÉDRAOGO), Quintín, volunteer nurse, along with several volunteers -most of them Aids infected-, Félicité, Gerard, Maria, Yvette, Sophie, Jacques, Paul, Issa. They work in weekly shifts supporting infected groups and other volunteers (Bernard, Christophe y Honoré).
The Médical Diocésain of Bam centre is always available to support and help on different areas, consultations, HIV tests, hospitalization, etc.